Home is a place to live, to return, to enjoy the fruits of labor after stressful working hours ...
The garden is a part of it, again like a silence to help balance with the noisy city life. People feel more relaxed when walking along trees and flowers in the garden.
And when we mention to decorative materials for the garden, the GARDEN TILES cannot be ignored.
Garden tiles bring creative inspiration to designers because they can freely compose, choose colors and patterns that are less restricted by the rules of color matching with other furniture inside the house. Tile design for the garden is therefore created a separate line of tiles with a name in the tile industry.
Several popular garden tile styles
How to choose garden tiles with color tones, patterns, and patterns will determine the homeowner 's design style.
With deep tones such as dark gray - light brown, orange, together with simple geometrical motifs or crisscrossing create a classic and luxurious style suitable for middle-aged homeowners, preferring the quietness. If you love Rustic or Minimalist style, this might be the choice for you.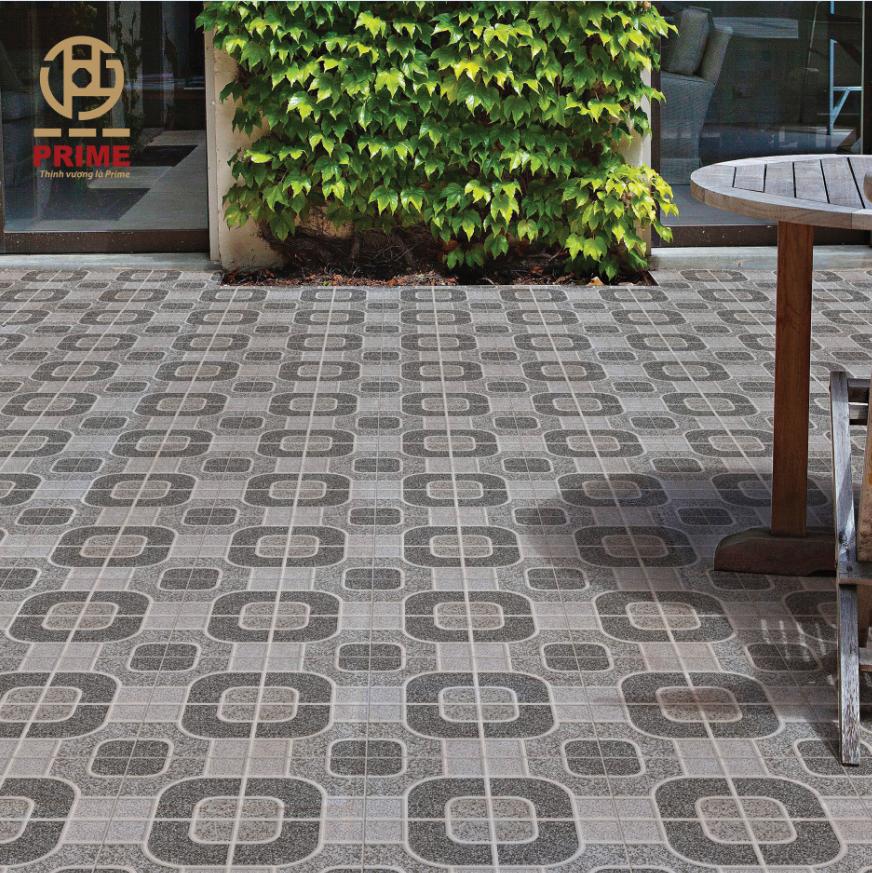 Contemporary style with bright orange tones, ivory white, gravel or stone patterns, or stylized patterns gives a fresh, youthful but no less sophisticated feeling that will be suitable with young and proactive people.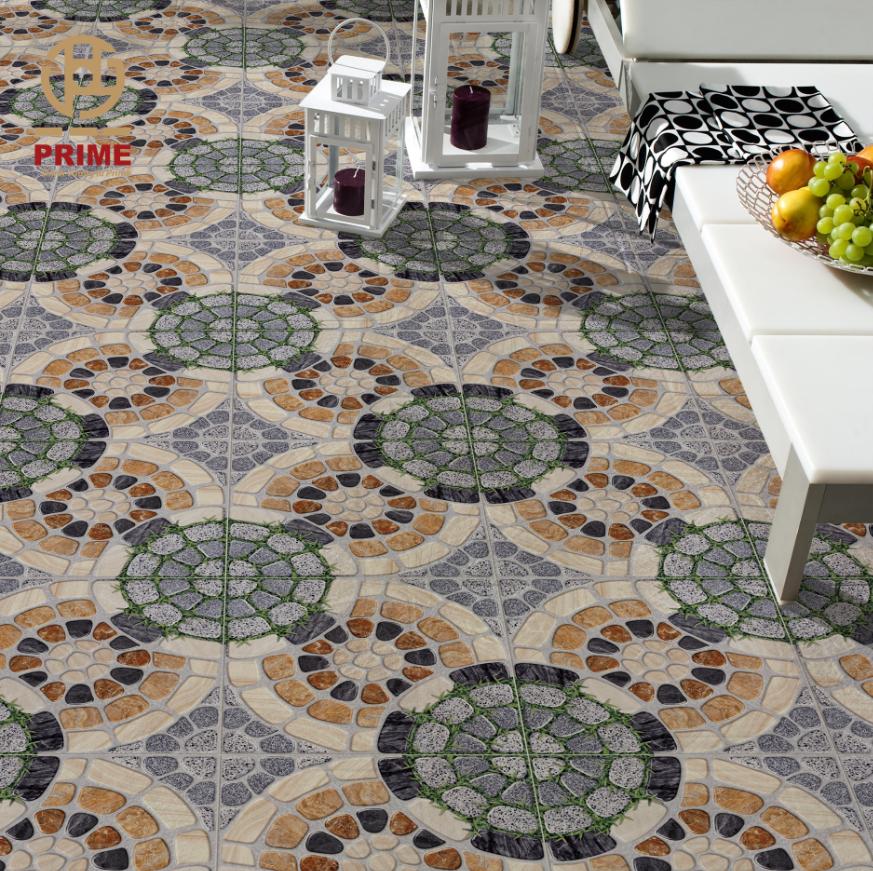 One of the most popular garden tile patterns today is the ingenious combination of gravel, stone or stylized rims with grass or flowers. This design, when used, will blend with the trees in the garden to create a harmony that is very suitable for those who love nature.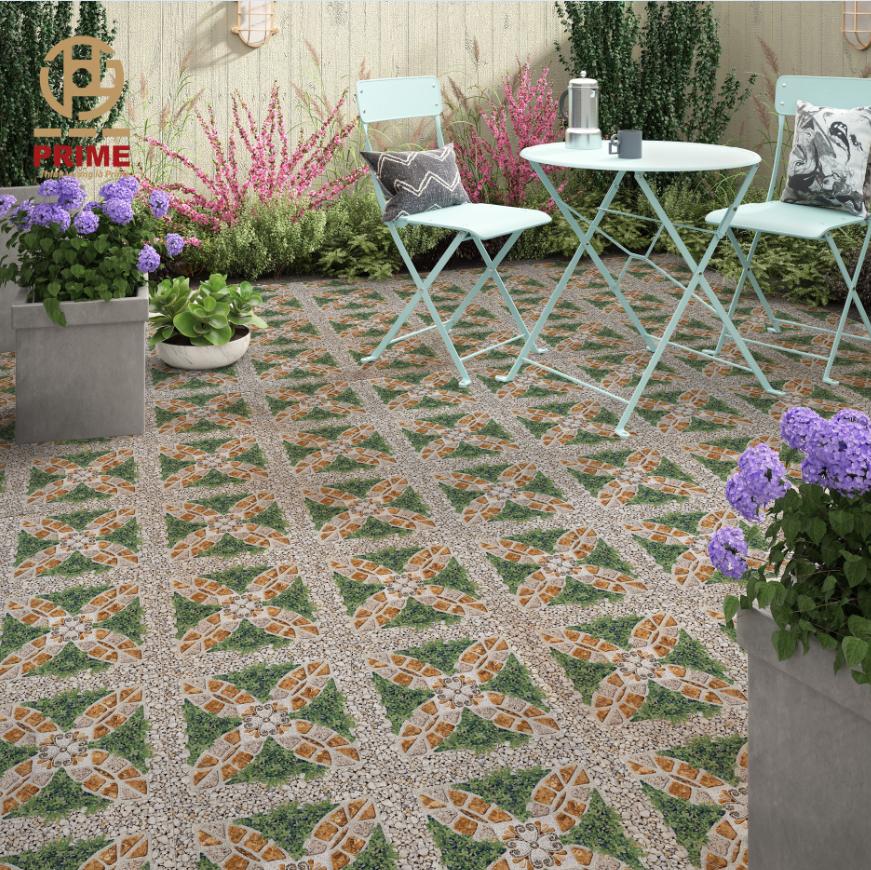 If you are a multi-style person, interested in the experience, you can choose to mix tile designs together to create a variety of colors and patterns.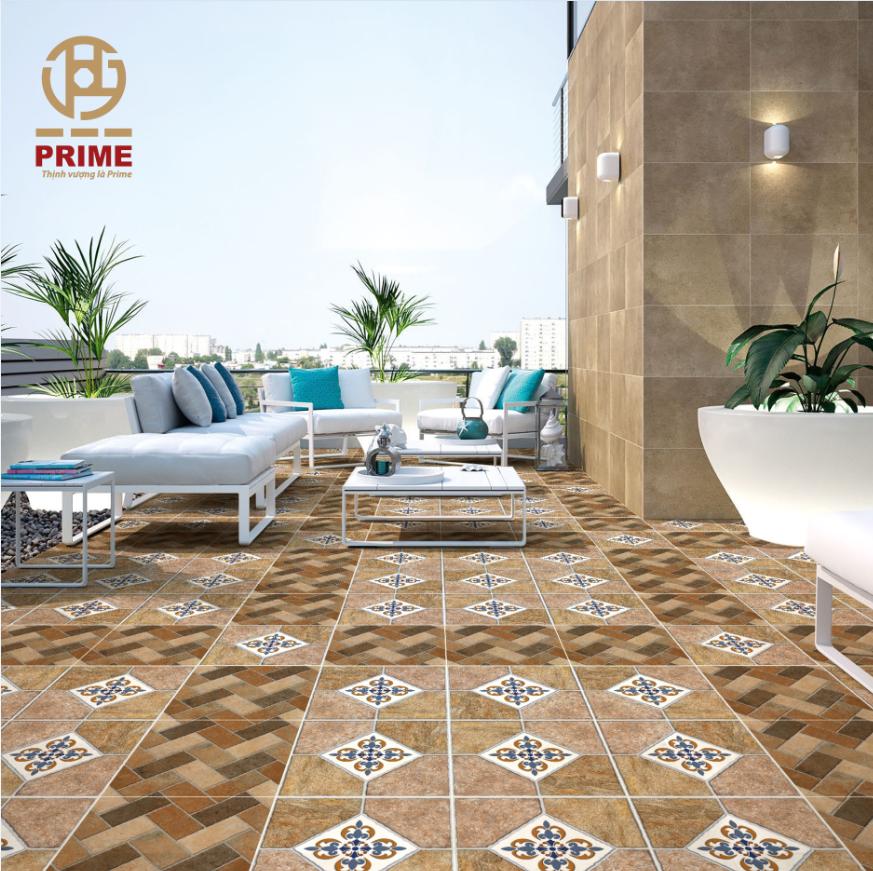 Some notes when choosing garden tiles
Many types of garden tiles, after a period of use, consumers notice some weaknesses such as tiles that are too shiny, dazzling, easy to slip, multi-angled tiles are difficult to clean, texture colors do not match and play the role of connection between interior and exterior areas ...
Therefore, the garden will not only bring beauty in its own style, but also satisfy the owner during use if some points are considered before selection.
Homeowners should choose garden tiles with a square shape, common sizes are 40x40 cm or 50x50 cm to be able to easily install as well as provide a balance of space for the garden.
Common tile should be Ceramic or Cotto types to ensure water absorption according to the standards as well as reasonable cost, especially for large areas. At Prime, Ceramic tiles have water absorption 3%
Homeowners should choose garden tiles with a certain roughness to ensure safety from slipping, especially for the elderly and children due to their lower ability to regain balance due to slipping compared to adults.
Prime currently has a lot of garden tiles invested in the development of surface technologies that bring high efficiency in both aesthetics and functionality such as matt on the glossy surface, structured effect, Stone Art effect….
And in order to get better efficiency, Prime develops cleansing product Izy Clean, which is very suitable for cleaning matt surface tiles or rough surfaces.
Please take a look at the perspectives for your own feel of the GARDEN TILES!
By Nguyen Thi Thuy Hang – Marketing Communication – Prime Group