To understand why Hera tile becomes the perfect product in the eyes of consumers, let's learn with Prime about the quality, function and aesthetics of this product.
Tile Hera- perceptions of quality and aesthetics
When placing Hera tile next to some other tile products, it is easy to recognize that Hera's glaze is thicker, so the surface is smoother and more glossy. This thick and glossy grazed layer determines the aesthetics and color fastness of the roof. Tiled bone made from clay and some special additives, then heated at 1130 ° C, creating a strong bond between bones and glazes. Thanks to the thick glaze layer and hard tile bones, the roof is protected from rain, sun and extreme weather, the roof tile is not eroded, absorbed by water or moss. Since then, the roof always remains fresh, shiny and seems to be wiped clean after each rain.
Speaking of Prime, Vietnamese consumers often remember it as an international quality brand. Prime's tile products meet strict international standards not only by high quality materials but also by modern manufacturing system. Hera tile products get a high uniformity, tolerance ratio is ± 1.5%, very easy for contractors to install.
To meet the different color preferences of homeowners, Prime has developed a range of colors to 8 colors from common to outstanding, personality.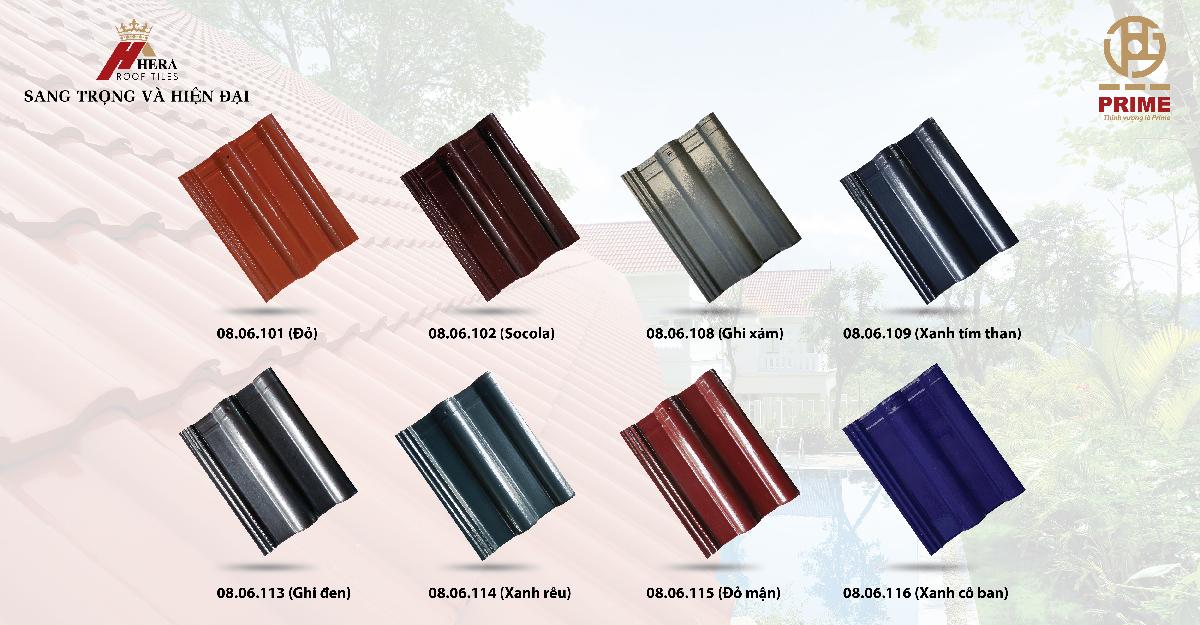 Roof Tile Hera collection
New set of roof Round Ridge - complete, easy to install and colorful
To complete the modern-style tiled roof, Prime offers a set of accessories, suitable for both Prime's two-wave and Hera tiles. This kit includes roof Round Ridge, Round ridge end, Barge, Barge End, Y-shape/T-shape 3 ways Round Apex.
In addition, the accessory set is also available in 8 colors corresponding to 8 Hera tile colors, giving customers the synchronization of the tile roof with their favorite color.
Roof Round Ridge collection
Hera tile and tile accessories - Outstanding advantage
The combination of Hera tile and new tile round ridges is a new step in perfecting Prime roof range.
Tile Hera is 30-35% lighter than traditional tiles, reducing the support for the foundation of the house while ensuring very good sound insulation and heat resistance, meeting the TCVN 9133: 2011 standard.
The tile lito bar gap is wider (330mm compared to 245mm), which helps to reduce the investment cost of the lito bar and save time for transportation and installation.
Hera tile over a number of years of development and market launch now has affirmed its position and won the trust of customers, not only by the initial feeling but also proving good quality, durability as well as resistant to all weather conditions and long periods of use.
Prime Group is always a pioneer in the field of construction material production, leading in technology and shaping style. Prime will continue to add many new models in the coming time, which will surely satisfy the most demanding customers. Please join us in waiting!
Collected by Thúy Hằng - Marketing Communication - Prime Group